Ringo Starr receives knighthood: 'I'll wear it at breakfast'
By Mark Savage BBC Music reporter 20 March 2018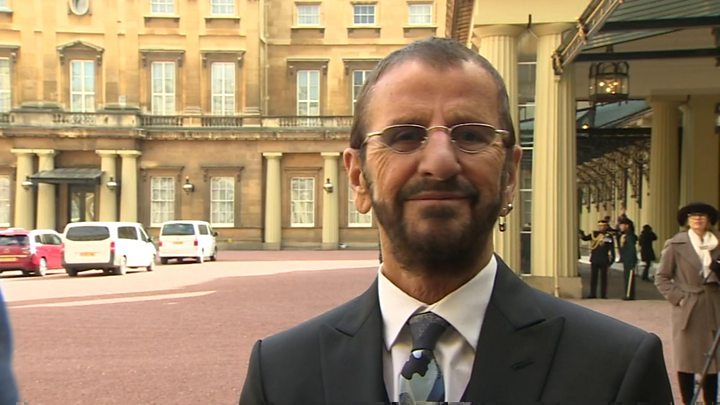 Former Beatles drummer Ringo Starr receives his knighthood for services to music

Beatles drummer Ringo Starr has been knighted for his services to music.
The Duke of Cambridge bestowed the honour on the Liverpool-born star at a ceremony at Buckingham Palace.
"It means a lot actually," the musician told the BBC. "It means recognition for the things we've done. I was really pleased to accept this.
The honour comes 53 years after the Beatles were all awarded the MBE - and Starr said he had missed his bandmates' companionship this time round.
"I was a bit shaky today on my own," he said.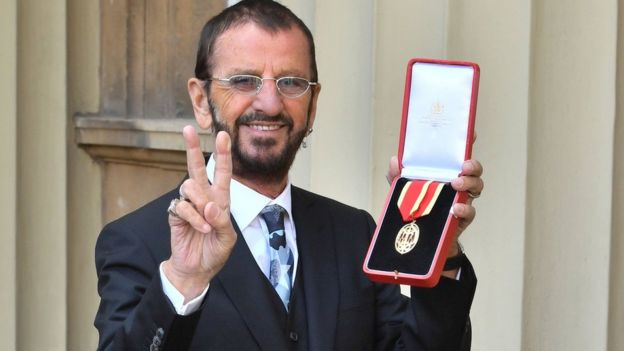 Ringo joined The Beatles in 1962, shortly after they signed their record contract
When The Beatles received their MBEs in October 1965, the occasion was not without controversy.
Rock and roll was still viewed with suspicion by the establishment and several previous honourees returned their medals in disgust.
John Lennon later claimed that the Beatles were so nervous at the idea of meeting the Queen they sneaked into a bathroom at Buckingham Palace for a cigarette.
"Who said that?" laughed the drummer after Tuesday's ceremony. "I'm not keeping that rumour going."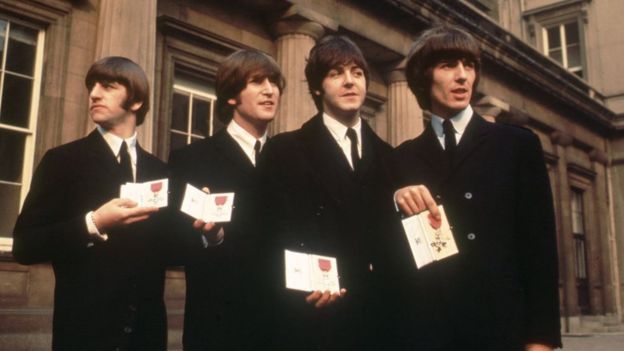 The Beatles at Buckingham Palace in 1965 (left to right): Ringo Starr, John Lennon, Paul McCartney and George Harrison

He arrived at the investiture with his wife, Barbara Bach, offering his trademark peace sign for fans and photographers.

Asked whether he wanted to be known as Sir Ringo, the musician, whose real name is Richard Starkey, replied: "I don't know yet. It's new and I don't know how you use it properly."

Turning to BBC reporter Colin Paterson, he added: "But I expect you to use it."

The 77-year-old added he knew exactly what he'd do with his medal.

"I'll be wearing it at breakfast," he joked.

BLOGGER'S HURRAY-IT'S-ABOUT-BLOODY-TIME: This was the best news I've had in a while. I don't think people realized then - and perhaps many don't realize now - the extent to which Ringo was the glue holding the Beatles together. He had to bear being the butt of jokes about the guy who tagged along behind all those geniuses, but Ringo's beat was so much a part of their signature sound that when you listen to YouTube tracks without his drumming, they sound almost insipid. Try to imagine She Loves You without that " bompa-da-bomp!" intro, or listen to A Day in the Life again and notice how much his drumming is the "bones" of the song. He was all about loving the beat and playing within the song rather than grabbing solo bits and playing the prima donna. Now he's come full circle and is that cheerful lad from Liverpool again, the one that kept his accent and his attitude. Ringo: I loved you then, I love you now, I'll love you always.
P. P S.: I think it's a little sad that when they run a photo of the Beatles for the BBC, they have to tell us what their names are. Time was, everyone knew, it was tattooed on our brains. But in this, I have hope. . . My kids knew every lyric of every Beatles song ever written, and they grew up in the '80s. Caitlin's best friend is a Beatlemaniac, though she can't really understand it. "God, she has every Beatles album, every Beatles poster, every Beatles t shirt and book and vintage trading card. . . " Caitlin's friend is 14, so perhaps the legend is fated to continue.

P. P. P. S.: If the BBC wants to sue me for lightly borrowing this before giving it back, well then go ahead. With the number of views I get (and I haven't even checked them for months, it's so disheartening) I don't think I am any threat to them. We'll call it "fair use" and leave it at that.