Mark Brown
, arts correspondent
The Guardian
, Tuesday 24 September 2013 16.13 BST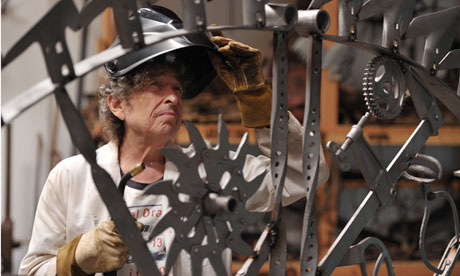 Bob Dylan works on one of his iron gates, which will feature in the Halcyon gallery's Mood Swings exhibition. Photograph: John Shearer/Rebecca Ward/PA
Come writers and critics who prophesise with your pen and keep your eyes wide
… because
Bob Dylan
is welding gates.
The
Halcyon gallery in London
has announced plans to exhibit ironworks designed and made by the musician as he continues his career reinvention as an exhibiting visual artist.
Seven iron gates Dylan has welded out of vintage iron and objects including a wrench, roller skate, meat grinder and lawn tools, will go on display for the first time, in an exhibition opening in November, alongside his paintings and signed limited editions.
Dylan said: "I've been around iron all my life ever since I was a kid. I was born and raised in iron ore country where you could breathe it and smell it every day. And I've always worked with it in one form or another.
"Gates appeal to me because of the negative space they allow. They can be closed but at the same time they allow the seasons and breezes to enter and flow. They can shut you out or shut you in. And in some ways there is no difference."
Dylan would say he has been a visual artist most of his life but it is only in the past six years that he has been exhibiting and selling work. His first museum show was staged in Chemnitz, Germany, in 2007.
He has had success and the
National Portrait Gallery is at the moment showing 12 pastel portraits of his in a small display which will stay until January
.
The Halcyon's forthcoming show, entitled Mood Swings, will "be the most comprehensive and authoritative collection of Bob Dylan's art to date", said the gallery's director, Paul Green.
Green added: "While Dylan has been a committed visual artist for more than four decades, this exhibition will cast new light on one of the world's most important and influential cultural figures of our time. His iron works demonstrate his boundless creativity and talent."
http://margaretgunnng.blogspot.ca/2013/04/the-glass-character-synopsis.html